Septic Tank Installation & Repair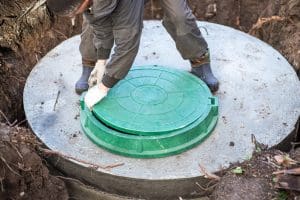 Septic Tanks Installed in Searcy, Beebe, Cabot, Rosebud
Are you in the market for a new Septic Tank system or in need of a Septic Tank Repair? Searcy Excavation & Dirtworks provides high quality Septic System installation and repair from outstanding Septic Tank contractors. If you'd like to get a new septic tank installed right that will last you for years to come, give us a call and let us give you a Free Quote.
Our contractors are friendly, reliable, and highly experienced when it comes to installing new septic systems in Arkansas. We can install your new septic system quickly and efficiently, and according to our high standards of quality. We serve customers in Searcy, Cabot, Heber Springs, Vilonia, Conway, Beebe, and the surrounding areas in Central Arkansas.
Septic System Installation Heber Springs
A septic tank operates by holding solid waste until it liquifies or is pumped out. A drain field or leech field is a network of piping punched with holes that is buried in trenches surrounded by gravel. The drain field is connected to the septic tank and used to get rid of impurities and toxins from the liquid that flows out of your septic tank. Most septic tanks nowadays are made out of concrete, plastic, or fiberglass, and your septic tank should be expected to last about 50 years before needing to be replaced.
If your septic tank is not maintained properly, it will affect the lifespan of it. Like most things, it must be properly maintained in order to maximize the life of the tank.
Excellent Septic Tank Repair Company in Arkansas
If you're in the market for a new septic tank or if you're in need of septic tank repair, please give our friendly Septic Tank Installation & Repair Contractors a call at 501-236-6418. We would love to speak with you about your project today, and are happy to provide you with a Free Quote for service.