Excavation, Dirt Moving, Trenching in Arkansas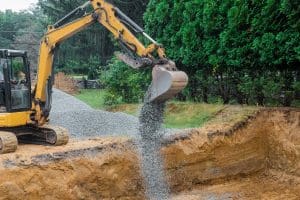 Best Excavation Contractor in Searcy AR
Are you in need of a reliable excavation contractor in Searcy or the surrounding areas in Central Arkansas? If you'd looking to hire an excellent local excavation company to handle your project, look no further than Searcy Excavation & Dirtworks. Our friendly pros will help you get your project done from start to finish, and we strive for 100% customer satisfaction on every job.
Whether you need an excavator to dig a hole for a pool, pond, or for site prep ahead of new construction, we are here to help.
Trenching & Ditch Digging Company Heber Springs, Bald Knob, Cabot
If you need a professionally dug trench or ditch, we have the equipment to help. Drainage solutions are an important piece of any new construction or simply to manage your land more effectively. Searcy Excavation & Dirtworks can provide you with the drainage solution you need from swales to retention ponds to swales and more.
Drainage Contractor in Arkansas
If you need a local, reliable contractor to assist with your drainage solution or excavation project, give us a call for a Free Quote at 501-236-6418
Searcy Excavation & Dirtworks is a local Excavation Contractor, Drainage Contractor, and Septic Tank installation service in Searcy, AR. We provide high quality excavation and dirt moving services for customers. Our friendly pros have years of experience running heavy equipment. We are locally owned, locally operated, and drug free. If you'd like to hire a company you can count on who will treat your project with the care and concern you've come to expect from excellent service providers, please contact us for a Free Quote.
Hire Our Dirt Movers and Excavators Rosebud, Vilonia, Cabot, Judsonia
You may call 501-236-6418 or fill out the Free Quote form on this website. We would love to hear from you today - thank you for your business!
Hire Our Excavators
Get a Free Quote today on our excavation services in Arkansas. We are Arkansas #1 excavation contractors.